关键词:固体激光器、衍射、光学成像、球差、放大器的增益饱和、
自聚焦、二次谐波、三次谐波、非线性、脉冲失真
FRESNEL 固体激光器设计软件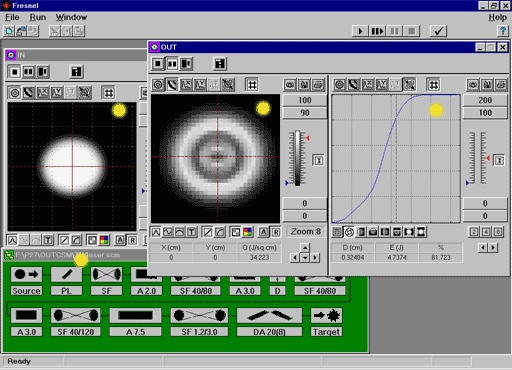 FRESNEL numerical calculations are based on the Fresnel diffraction theory.

FRESNEL是基于FRESNEL衍射理论数值计算软件。

FRESNEL includes such physical phenomena as diffraction, optical imaging, spherical aberration, gain saturation effects in amplifiers, pulse shape distortion and nonlinear effects in media.

FRESNEL可以计算以下物理现象:衍射、光学成像、球差、放大器的增益饱和、介质的脉冲失真和非线性

FRESNEL library includes more than 50 of simulated optical elements, tools and resources.

FRESNEL库中包含50多种光学元件,工具和资料。

FRESNEL is addressed to: scientists and engineers, lecturers in laser optics, students.

FRESNEL适合于:科学研究者和工程师,激光光学课程教学,学生

FRESNEL is extremely simple and straightforward to learn and use.

FRESNEL便于学习和直接学习使用.
The latest FRESNEL 4.0 is now capable to simulate nonlinear optics effects, such as self-focusing, second and third harmonic generation, and multipass schemes. All FRESNEL versions feature optimized modeling procedures, variety of input beams, optical elements and special resources, comfortable interface, extensive support options.
最新的FRESNEL 4.0可以模拟非线性光学效应,例如,自聚焦、二次和三次谐波、和多通道方案。所有的FRESNEL版本可以优化模拟过程,入射光变量化,光学元件和专门的资料,合适的界面,扩展支持选择。
MODELING PROCEDURES:模拟过程
Effective Fast Fourier Transform wave propagation method with automatic scale adjustment to minimize computation errors;

有效地快速傅里叶变换波动传输方法可以自动采样调正最小的计算误差

Automatic magnification of beam spatial scale on apertures of optical elements to improve computation accuracy and minimize aliasing effect;

自动放大光束在孔径上的空间采样来提高计算精度和减少混叠效应

Permanent monitoring of the calculation accuracy;

永久监测计算精度;

Tightly optimized faster algorithms to handle beams at spatial discretization enhanced up to8192x8192 points and temporal discretization up to 128 slices;

•高优化快速算法来控制光束的空间离散化,增强了到8192x8192点和时间的离散化处理多达128片;

Fourier interpolation with arbitrary scaling factor;

傅立叶插值的任意缩放因子;

Automatic allowance for the lens' spherical aberrations of the beam with an arbitrary wavefront;

自动添加任意波前光束为透镜的球面像差;

Automatic allowance for all kinds of tilted plane parallel plate aberrations;

自动添加各种倾斜的平行平面板像差;

Beam transforms - shift, rotation and reflection;

光束变换平移,旋转和反射;

Nonlinear optics - self-focusing, second and third harmonic generation;

非线性光学自聚焦,二次和三次谐波的产生;

Amplifiers with nonuniform gain and OPD along X,Y,Z axes, multipass amplification schemes.

放大器非均匀增益和沿X,Y,Z轴的光程差,多程放大方案。
BEAMS, OPTICAL ELEMENTS and RESOURCES: 光束,光学元件和资料
Hermit-Gaussian and Laguerre-Gaussian modes, Super Gaussian, Flat-topped and other;

Handling of user defined beams and pulse shapes;

Library of the optical components that includes nearly 50 elements:
Sources: Flat-topped, Resonator mode, Super Gaussian, Diffraction pattern, Text file;
Obstacles: Diaphragm, Mask, Obscuration, Dusted surface;
Lenses: Thin lens, Lens, Lens (A);
Telescopes: Spatial Filter, Beam expander;
Amplifiers: Rod and Disk with nonuniform gain and phase aberration, Saturable absorber;
Primary Aberrations: Astigmatism, Coma, Defocus, Spher. Aberr., Tilt;
Phase Tools: Retarder, Phase deformation, Phase Screen, Deformable mirrors;
XY Attenuation: Intensity and Amplitude attenuation and screen;
Beam Transforms: Shift, Rotation, Reflection;
Nonlinear Optics: Self-focusing, SHG type 1, SHG type 2, THG;
Diagnostics: View screen, Interference, Plate;
Coordinate grid: Grid control, Target, Auto magnification;
Multipass Schemes: Turn Back Mirror, Base MPA, L-turn MPA, U-turn MPA;

Built in Beam profiler procedures recommended by ISO document #11146;

Wavefront metrology.
INTERFACE:界面
Intuitive-clear multi-windows graphic interface;

•直观清晰的多窗口图形界面

Assembling optical schemes using «drag and drop» principle;

组装使用光学方案用鼠标拖拉原则;

No need for user to learn any command language;

•不需要用户学习任何命令语言;

Full control on simulation process;

•全过程控制模拟;

Comprehensive interactive beam analysis during computation including beam profiling and zoom, phase and amplitude retrieval;

•综合分析计算,包括互动的光束分析在计算光束的振幅和相位谱的缩放,和振幅;

Magnification mode for detailed beam examination;

•详细的检查放大光束模式;

Powerful Beam analyzer tool;

强大的光束分析工具;

Data export to other Windows applications (e.g. MS Excel, MathCad);

数据交换其他程序(e.g. MS Excel, MathCad);

Black-and-white or pseudo color layouts, linear and logarithmic scale;

黑色和白色或伪彩色布局,线性和对数尺度;